This opinion, although backed by research and facts, may step on some toes. In our information overload age, analytics and measurements often cause professionals' gazes to glaze over while reading them, but they matter. My apologies in advance to anyone who finds offense. Even in the D.I.Y. world, there are qualifications for presenting as an expert—do you want to pay for less?
When we, as students, would attempt to call my Tai Chi instructor "Master", he quoted his own Master, "How much Kung Fu do you have when you have ten years of Kung Fu? A little Kung Fu." Or if you prefer, allow me to quote the wisdom of the 70s Hostess jingle: It takes a while to eat a Chocodile.
Although we are addressing a recent media, it takes a while to become a (real) social media professional. Unfortunately, some social media speakers being paid big bucks don't pass muster or meet minimum requirements for the title.
Full Disclosure: Check My Scores
Klout, Kred, & PeerIndex
Social Media Influencer minimums suggested for a speaker are:
50 Klout
650 Kred
50 PeerIndex
(Source: Darren Woolley
)
Forbes Scoffs at Anti-Social Media Marketing Execs
"Life as a top executive of any large company is a tough job. It's especially tough for CMOs [Chief Marketing Officers] given the high turnover rate. From my experience, having a large following and creating a stronger social network of influential people around you – means you become nearly unemployment proof. It also means you have the ability to influence employees, partners, suppliers and customers directly by using the same platforms and tools that they use every day. It means you can receive instant, personal feedback without having to wait for the data analysts to tell you their interpretation of the situation. It's the dream situation for a marketer, and most of the marketing leaders are not doing it.
"
(Source: Forbes.com Meet the Top 20 Most Social CMOs of the Fortune 100)
Here are some social media influencers Forbes ignored, authored by a writer on the list, to use as a comparison for so-called experts.
He Brands Like an AutoBot
You can buy all of the followers you like, force yourself on thousands of Facebook friends, and repost, share, retweet, act like a total bot, re-blasting celebrity tweets in social media… and still lack the engagement that makes you an influencer.
Think of social media as a museum or newspaper that you curate. If you take the "me" out of social media (just say "no" to selfies!) and focus on paying it forward, you will get somewhere. People appreciate your appreciating them, retweeting them on twitter, sharing their photos on Facebook, and liking their photos on Instagram.
Try this:
Beginning with Instagram and your smart phone, a

dd your original photos that are interesting, if a little off-topic.

Share them to all available social media from the app (Facebook, Twitter, Tumblr, Flickr, and Foursquare) and watch the love grow.

Curate your content. If a friend's friend happens upon your feed, timeline, or boards, she always will find something interesting to peruse.
Even the most interesting and expensive exhibit at the zoo captivates its audience for less than 60 seconds, so get to the point. You are branding yourself by entertaining and helping to brand businesses owned by those in your audience. Be generous and creative. Your curated collection may be a limited engagement, in that you hide or delete some of your content that does not receive a strong response after 24 hours. Your most popular content becomes your permanent content.
Watch your Google Analytics to learn where your clicks are coming from, because friends and followers leaving social media platforms to find your website, blog, or landing page counts as engagement on a whole new level. Hooray! They clicked through to visit your wares, raising your site traffic and conversions numbers (sales) over time.
Getting Engaged
As I travel through my social media connections, followers' avatars become their identities in my brain. Their content tells me what they are up to, whether selling vintage jewelry, or flirting with politically-ranting followers.
I tend to follow Creatives (writers, artists, photographers, musicians, and other entrepreneurs), so don't engage in political discussions, but share lots of Etsy and Amazon links to the products of my followers. In turn, they tell the world about mine.
The key is that we become friendly with one another, familiar with each other. Sometimes my friends send me photos of mermaids they think I'll like. That's really thoughtful, and tells me they know me pretty well! Likewise, if I see a beautiful Hibiscus bloom in my backyard, I know the photo of it will receive a string of <3's from particular tropical followers on Instagram.
Curate your content, personalizing it for your audience. That's what marketing and branding is all about. This engagement with your followers connects a good feeling, a familiar feeling, to you and your brand.
Formulaic vs. Natural Flow
Is there anything that stinks worse than spending hours as a grade-schooler writing and editing a letter to your favorite author, or the US President, only to receive a boiler-plate letter in response with the famous person's signature stamped at the bottom by an intern?
When Marguerite Henry typed and signed a response to me personally, using a typewriter with a quirky "r", it became a treasure! Not only did I get an "A" on my report, but I was encouraged in my own writing to be human, honest, and find my own voice. The authenticity of Ms. Henry's response to a little girl writer who loved horses, and the Misty of Chincoteague series most of all, informed my approach to writing ever after.
It's called Influence for a reason.
You can only influence people who respect you enough to engage with you. If you set off their cornball meter, they will ignore you or use you, but they will not engage with you or send you thoughtful photos of mermaids.
Brand yourself as a real human being, but stay above the fray and be positive (social media is not the venue for drama about how your teenager stayed out all night).
Think about how you turn to positive people again and again because of the way the engagement makes you feel (see Maya Angelou's poem on the topic).
Feed the Feels: Feel out your followers for positive ways to influence them to love you, thereby loving your brand.

Share the <3: It starts with engaging them on their level, sharing what you know they'll love and, when relevant, generously sharing their brands with your followers.

RT "you": Spot check your timeline and feeds for selfies, self-promotion, and un-

like

d content – cull it down to about 10%. Tweets that mention "you" get retweeted the most!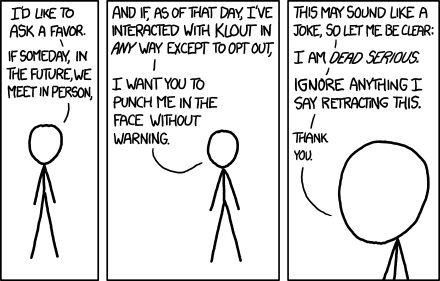 Klout comic by xkcd via my 18-year-old son, who does not like social media because it has nothing to do with Reddit, gaming, or coding. Incidentally, Reddit Founder Alexis Ohanian's Klout score is 86.
I have worn the cone of shame for hundreds of lost marketing dollars at the hands of a faux-cial media specialist. I'm not bitter, but better with my D.I.Y. Social Media, for which I am paid a handsome $99 fee for individual hand-holding during guided social media setups. I would do it for free but for the hand-holding part, which can last up to three hours. Note: Show-me works best in person with generations older than Millennials.